North Texas commercial real estate players have survived some huge downturns over the years, from transformative tax-law changes to energy crises and tech busts. Those challenges pale in comparison to the pervasive COVID-19 pandemic that took hold in early 2020.
Retail stores and office buildings emptied, and with no historical frame of reference, no one knew what to expect or how to plan for the future. Local industry professionals responded in true resilient form, closing deals, developing new projects, and stepping up to support a community in need. D CEO is proud to honor those leading the way in our 2021 Commercial Real Estate Awards program. All 83 finalists (51 projects and deals and 32 professionals) are featured in this report. 
For more information about the finalists, click the linked category titles. Winners will be revealed at an event April 28.
Real estate used to be a game of single uses. But developers have l
earned that combining uses, when appropriate, strengthen projects, spreads out
risk, and provides amenities for residents and tenants.
Billingsley Co.'s Grapevine development, Wallis and Baker, is anchored by 432 luxury apartments and townhomes with adjacent office and retail space. Amenities include courtyards, a pool, library, wine room, and seven neighborhood parks.
Bright Realty continues to enhance its Castle Hills residential development with even more amenities. Its latest feature, Crown Centre, brings its live-work-play philosophy to the fore, with luxury retail, multifamily, office, and hotel space.
Harwood International has brought the best of vertical mixed-use to its Harwood No. 10 building, a 22-story office tower that boasts a European-style corridor with retail shops and restaurants with adjacent gardens and

cobblestone walkways.

AT&T decided against moving to a new headquarters and instead pumped more than $100 million into a technology-rich reinvention of its campus in Dallas; the new AT&T Discovery District reinvigorates the very core of downtown.
A look around the skyline demonstrates the deep talent of North Texas design firms.
HDF,

Led by

Jeff Smith

Jeff Smith describes architecture and design as "a fascinating blend of art and science, with culture, history, and politics in the mix as well." With shelter being one of humanity's three greatest needs (along with food and clothing), "architects have an opportunity to make a real impact in the world for good, to help people, and to advance our human civilization," he says.
Merriman Anderson,
Led by

Milton Anderson

When he was young, Milton Anderson would often create cities and roads in his family's backyard. His older brother, an engineer, told him he should be an architect. "From that point, I worked construction, was a draftsman for a grain elevator, and an electrical contractor," Anderson says. "I loved to solve problems, draw, and paint. There was no other option."
Perkins & Will,
Led by

Tom Reisenbichler

Even through the pandemic, the Dallas office of Perkins & Will executed a number of transformative projects. And even more, lie ahead. "We are poised to deliver some fantastic buildings in 2021," says Tom Reisenbichler. "The opportunities we are winning get better and better each year. We are just approaching our potential in design leadership for our industry."
Adam Abushagur
Sean Berry
Finalist Broker of the Year
Adam Abushagur
Marcus & Millichap
Some people are just born for this business. That appears to be the case with Adam Abushagur, who has experienced a swift trajectory to success. In four years, the team he established at Marcus & Millichap in 2017 closed nearly 130 deals valued at more than $445.5 million. Today, Abushagur is the No. 1 office and industrial investment sales broker for his firm nationally. "The entrepreneurial environment of commercial real estate provides freedom to grow and a never-ending learning experience," he says. "Every client and project is unique, which provides an extraordinary thrill and challenge to attack every day."
J. Holmes Davis,
Binswanger Co.
J. Holmes Davis' father was a pioneer in the real estate industry in North Carolina and introduced his son to the business when he was 16. "Needless to say, I am grateful to him, as I was fortunate to find a passion for a career so early in life," Davis says.
Allen Gump,
Colliers International
Real estate veteran Allen Gump says his perspectives on the business changed after his daughter Allyson joined his team nine years ago. "We need more women and people from all walks of life and diversity in our industry," he says. "It makes us all better."
Duane Henley,
Transwestern
COVID-19 didn't stop Duane Henley from inking more than 400,000 square feet in transactions. The pandemic "presented a business climate I haven't seen in 35 years," he says. "My clients kept a positive attitude and were imaginative in negotiating deals."
Matt Schendle,
Cushman & Wakefield
Matt Schendle loves the ever-changing nature of real estate. "You've got to constantly be evolving, from the way business is done to promoting assets and portfolios," he says. "Things are much different than they were in 1997—although I still have my pager, just in case."
One of the big benefactors of DFW's relocation activity is the data center market, as companies need IT infrastructure.
Despite 43 rain days, Compass Datacenters met construction goals for its Red Oak I facility in southern Dallas. It's the first data center to be built on the company's new 165-acre campus. The development will feature an on-site substation and is serviced by multiple fiber paths. All told, the 16-building development will provide 252 megawatts of capacity.
Stream DFW VII
Courtesy of Stream Realty Partners
Stream Realty Partners was one of the earliest Dallas real estate firms to diversify into data centers; it has been a key player in supporting the region's tech community for two decades. One of its latest projects is Stream DFW VII, a $30 million data center in Garland. Designed by Corgan, the highly secure project features high-level finishes and tenant office space.
Every real estate deal starts with the land. Despite the region's vast size, compelling parcels are becoming harder and harder to find. Standout deals for 2020 include an 895-acre tract in Fort Worth near Sendera Ranch acquired by Green Brick Partners for a new 2,500-home project called Madero. Davidson Bogel Real Estate brokered the deal. Another noteworthy transaction involves one of the last fully entitled parcels zoned for light industrial: a 12.6-acre tract in Southlake that Darr Equipment had owned since 1984. The land now houses Southlake Business Park, developed by Holt Lunsford Commercial.
North Texas is known nationally for its development prowess across all product types, from office and industrial to mixed-use and multifamily.
Leon Backes,
Provident Realty Advisors
"Developers get to imagine not only how projects will work financially, but how people will live and work in the environments we create. It is sometimes interesting to drive down the road and count all the deals I've been involved in. Those experiences help me remember that the developments we create will be here long after we are gone."
Chris Bright, Bright Realty
"I'm proud of what our team accomplished and what we were able to finish in the very challenging environment of 2020. I'm excited about moving past the struggles of last year and the return to some level of normalcy, even if it is a different normal than what it was before. The future is always exciting, and it gives us opportunities to learn, grow, and adapt."
Bill Cawley, Cawley Partners
"Relationships are what make development special, from the deal side and the service side to construction and property management. I'm excited to be in such a pro-business city like Dallas, with the best team of people around me in my career. I have never been more positive about the opportunities in front of us, as well as the incredible team that's along for the ride."
John Griggs,
Presidium
"I've learned how important it is to work hard, be honest, and dive deep into the field you're pursuing. Your team and investors will look to you to become the expert—to know the next move and how to operate. Be that expert and know more about your space than anyone else. That's what your stakeholders want, and it's ultimately what will make you successful."
Brad Taylor, JPI
"My father was a multifamily architect, and I grew up walking job sites and accompanying him during inspections. Eventually, I learned my personality and talents were better suited to development and decided to pursue that line of work—one of the best career decisions I've made. Now, my son also works in the multifamily industry, so it truly is a shared family passion."
Five office developments stood out in 2020, they include:
3401 and 3501 Olympus Boulevard at Cypress Waters, two spec buildings totaling 402,000 square feet, developed by Billingsley Co.
HQ53, a 250,000-square-foot building from Cawley Partners that was fully leased before construction completion
Reata Pharmaceuticals, a 327,000-square-foot build-to-suit by Trammell Crow Co. in Plano
The Offices Two at Frisco Station, a 210,000-square-foot second phase from VanTrust Real Estate
Victory Commons One, a 365,000-square-foot tower from USAA Real Estate and Hillwood.
Developers were active in 2020, trying to keep up with fervent demand.
3200 Irving Blvd. M2G Ventures has big plans for improving Brookhollow, starting with one of the submarket's largest sites.
Carter Park East Clarion Partners, Crow Holdings, and Rob Riner Cos. teamed up on this new 556-acre park in South Fort Worth.
Encore Wire Corp. Service Center This 720,000-square-foot project is the biggest expansion ever for the McKinney-based cabling manufacturer.
Ericsson USA 5G Smart Factory Ericsson targeted Lewisville for its first 5G manufacturing facility in North America, a 306,300-square-foot project.
International Logistics Center What began as a spec project by Stream Realty Partners turned into a 425,000-square-foot build-to-suit for Litex-Craftmade.
Passport Park This four-building park from Trammell Crow won huge deals in 2020, including a 1.1 million-square-foot lease from Uline.
Here are four outstanding (and very different)residential developments that debuted in North Texas last year.
The 45-story residential sibling to the iconic Fountain Place opened its doors in 2020. AMLI Fountain Place is the tallest addition to Dallas' skyline since the late 1980s. It was designed by Page Southerland Page, which took great care to match the glass of its twin.
OM Housing's new 112-unit Bardin Apartments in Arlington leverages partnerships with the city, Mission Arlington, and the YMCA to help fill an affordable housing gap and provide unique amenities focused on health and education.
Westdale and StreetLights Residential teamed up on The Hamilton at The Epic, a skyline-changing, 26-story community in Deep Ellum. The project incorporates nearly 23,000 square feet of retail space and is designed to pay homage to the neighborhood's rich culture and vibrant art scene.
Fast-growing North Fort Worth is home to the new 408-unit Presidium Revelstoke, integrating Smart technology into each residence. Designed by O'Brien Associates, amenities include a resort-style pool and spin and yoga studios.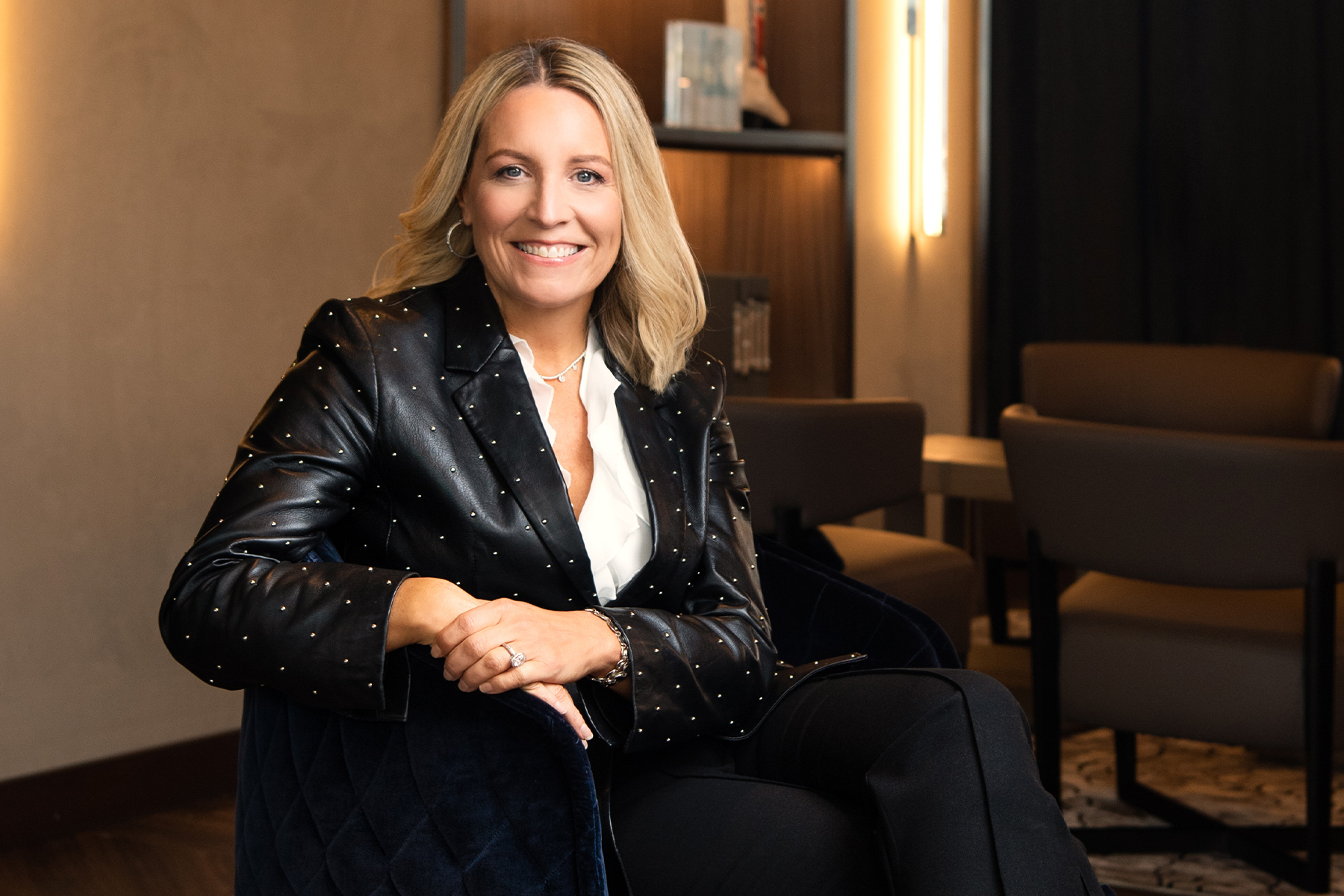 Sharon Morrison
Sean Berry
Finalist Executive of the Year
Sharon Morrison
ESRP
She oversees the vision, growth, and strategy of her firm. Yet, Sharon Morrison still finds a way to be one of the most active brokers in North Texas, closing more than 2 million square feet in deals last year. Oh, and she does it while specializing in industrial real estate, a predominantly male sector. A standout basketball player at Ursuline Academy of Dallas, Morrison still considers herself "a pretty competitive person" and likes the player-coach role she has at ESRP, which she initially co-founded in 2013. "I can be team captain, but I also know how to pass the ball to my teammates when appropriate," she says. "We all work together for the win."
Holt Lunsford,
Holt Lunsford Commercial
Since opening his firm in 1993, Holt Lunsford has built it into a leasing, property management, development, and investment force. He has done so while also creating a family foundation and serving on numerous nonprofit organization boards.
Matt McGraner, NexPoint
Matt McGraner joined NexPoint in 2013—a year after it was launched out of Highland Capital Management. He has been the driving force behind its growth; the investment firm's real estate assets under management now total $9 billion.
Jennifer Pierson and Jason Vitorino,
STRIVE
When a deal closes at Strive, everyone in the firm gets paid. It's an all-for-one and one-for-all strategy developed by investment property sales stars Jennifer Pierson and Jason Vitorino, who joined forces four years ago to form their own real estate advisory.
Robert Shibuya,
Mohr Partners
Robert Shibuya moved to Dallas from Los Angeles and three years later led the management buyout of Mohr Partners in 2017. He now runs the company, one of the world's largest commercial real estate firms that exclusively represents occupiers.
These under-40 professionals in Dallas-Fort Worth show that the future of the industry is in excellent hands.
Robbie Baty, Cushman & Wakefield
"When I was a junior Rhodes College, I bumped into an alum at an event. He asked if I was interested in an internship, and I ended up working for him at Trammell Crow Co. I always wanted to be in a sales role, and after a summer of cold calling tenants, I was hooked and knew I was going to be a tenant representative."
Adam Gottschalk, STRIVE
"I wanted to get into a profession where I could be a strategic partner with property owners—someone they could call for guidance, advice, and market knowledge. Every day is so different, and I truly enjoy that. And there is nothing I like more than helping others achieve their financial goals through real estate."
Ryan Johnson, SRS Real Estate Partners
"What I love most about this business is problem-solving and building relationships. I love digging into our clients' businesses and understanding what makes them work and what makes them profitable. I love the process of translating that business anatomy into making sound and strategic real estate decisions."
Hunter Lee, HPI
"I fell into real estate on accident. I planned after college to join the staff at a summer camp. I connected with a friend who was at CBRE at the time. They had an opening for an analyst position, and after what seemed like 15 interviews, I was hired. I am one of the lucky few whose first job ended up being a career."
Holden Lunsford, Holt Lunsford Commercial
"In 2020, we started a tenant representation group in Dallas, launched an office leasing and management team in Houston, doubled the size of our leasing analyst program, and formed new internal committees. The collaboration of our teams this year has changed our organization very quickly."
Jackie Marshall, CBRE
"This past year was a big year for me personally with the birth of my daughter, Lara, in February 2020. It was a challenge to come back from maternity leave at the height of the pandemic confusion, but I am proud of the way I adjusted to new motherhood and the new reality of our industry all at once."
Dupree Scovell, Woodbine Development Corp.
"This has been the worst year in the history of the hospitality business. But in times of crisis, you evolve and improve, or you are likely to become irrelevant. Woodbine started three different ventures in the midst of the pandemic. Our incredible team locked arms and made huge sacrifices to get to the other side."
A boom in e-commerce activity profoundly boosted DFW's industrial sector in 2020. Standout deals during the year included the online king, Amazon, which leased 1 million square feet at DFW Commerce Center in Irving, creating more than 1,000 jobs. Another seven-figure transaction was a 1.1 million-square-foot lease from Uline at Trammell Crow's Passport Park, also in Irving. TCC also landed a 776,630-square-foot lease at Cedardale Distribution Center from FedEx for a ground shipping hub that brings 1,200 jobs to southern Dallas.
Excellence in Community Service
The Real Estate Council's Linda McMahon is at the forefront of an organization that is transforming the region.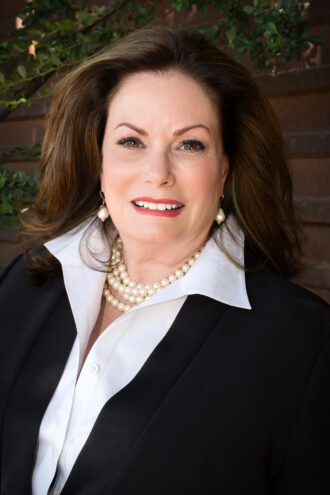 Linda McMahon
Courtesy of Linda McMahon
Over the past decade, Linda McMahon, TREC president, and CEO, has tirelessly worked to improve North Texas. She has championed neighborhood revitalization initiatives, such as the Dallas Catalyst Project, which invests more than $1 million in grants and pro bono services to revitalize the Forest District in southern Dallas. TREC also launched an Affordable Housing Fund with $2.6 million in seed funding from the PRO Neighborhoods investment and an additional grant from AT&T. Last year, McMahon was one of three North Texans asked to participate in a statewide effort to develop a steering policy to benefit urban areas. She says she is most proud that TREC "is that we are inspiring the next generation of leaders who are contributing their talents to enrich the lives of thousands through building relationships and improving
their built environment." 
Despite the pandemic, Dallas-Fort Worth's strong
economic and employment fundamentals helped it win
relocations and expansions all across the region.
After brokering the sale of American Airlines' former HQ to Capital Commercial Investments, Transwestern secured a big lease from Bell Textron, which signed on for 109,190 square feet. The leading aerospace manufacturer needed to increase its footprint to accommodate its growing operations. The new space will house approximately 600 employees.
One of the most complicated deals in the market last year involved Denbury and Prosperity Bank. Denbury signed two subleases from Prosperity and Aimbridge Hospitality for a new 104,840-square-foot headquarters. Meanwhile, Prosperity subleased 26,253 square feet from Aimbridge. Cushman & Wakefield and Cawley Partners put together the complex deal.
When complete in 2023, Harwood International's No. 14 building will be home to a new office for Haynes and Boone. In a deal negotiated by JLL, the Dallas law firm leased 125,000 square feet in the building, designed by HDF, Kengo Kuma, and Corgan. At 27 stories, it will be Uptown's tallest tower and feature the rich amenities for which Harwood is known.
By moving to a new 160,000-square-foot campus near DFW Airport, Heritage Auctions nearly doubled the size of its global headquarters. The deal, brokered by Transwestern, helped the world's largest collectibles auction house to put its three Dallas locations all under one roof—one that spans the length of nearly three football fields.
One of the biggest deals in 2020 involved Oncor leasing nearly 200,000 square feet at 777 Main in Fort Worth, where it will occupy seven floors. For three decades, the electricity delivery company's Fort Worth operations had been housed at 115 W. 7th Street, which is now up for sale. Transwestern represented the property owner of 777 Main, Atlanta-based Brookdale Group.
Fast-growing fitness equipment company Peloton (even President Joe Biden has one of its bikes) expanded its North Texas footprint in a big way, more than quadrupling its space at Legacy Central in Plano for a total of 131,270 square feet. The expansion allows Peloton to hire up to 1,600 new employees. Transwestern and CBRE brokered the transaction.
Globe Life Stadium in Arlington, TX
Courtesy of Company
Unprecedented challenges didn't get in the way of several big experiential projects opening or expanding in North Texas last year. The biggest was Globe Life Field, a new $500 million, 40,300-seat stadium for the Texas Rangers in Arlington. Also making its debut was AC Hotel Fort Worth Downtown, a lifestyle brand from Marriott next to the city's historic Kress Building on what used to be a parking lot. Grandscape in The Colony saw bustling activity, with new tenants that included U.K.-based Electric Gamebox.
These companies have literally helped shape North Texas.
AECOM,

Led by

Monte Thurmond

"The future is bright for all of us here in the Dallas-Fort Worth region. The future capacity for astounding growth  in our community is second to none."
Carcon Industries/STL Engineers,

Led by

Arcilia Acosta

"Always keep your eyes on the numbers, as they will tell the story of performance and guide you on making swift pivots to make certain all of your projects are successful."
KAI Enterprises,

Led by

Darren James

"The biggest lesson I've learned is that everyone's voice matters. You cannot discount someone's input because their background or experience is different than yours."
Schmidt & Stacy Consulting Engineers,

Led by

David Schmidt

"Some may say that at my age, I'm at the sunset of my career, but I disagree. I wake up each morning with the same excitement and grit I experienced when we started this company in 1991."
Shawn Todd sits in the lobby of The National, where he led a $450 million restoration and renovation.
Sean Berry
Pioneer Award
Shawn Todd
Todd Interests
Late last year, Todd Interests developer Shawn Todd and a small group raised a glass to architect George Dahl and turned on the banker's pinstripe lights of the old tower for the first time in more than a decade. Now named The National, it's setting the standard for amenity-driven real estate in North Texas and attracting market-high rents for luxury residences: $3.85 per square foot. The National is one of the latest redevelopments under Todd's belt—and it is also the largest historic renovation in the state. Other significant projects by Todd Interests include transforming a historic U.S. Post Office into a marquee residential address at 400 North Ervay and the milestone East Quarter project, which is a collection of 18 historic buildings that link downtown Dallas and Deep Ellum.
The creativity of designers and developers was on full display last year, with wide-ranging buildings finding new life through innovative reinvention.
2401 Cedar Springs, a seven-story building at Cedar Springs Road and Maple Avenue, got a top-to-bottom redesign that, in effect, created a new building in Uptown. Crescent Real Estate partnered with Corgan and landscape architect David Hocker on the transformation and with Alvéole on a unique beehive feature.
Continental Gin Building, which once housed one of the country's largest cotton gins, is now a creative office project in downtown Dallas managed by Common Desk, thanks to a redevelopment by August Family Investments. It also has retail space on the first floor and office suite space on the third floor.
Microsoft invested heavily into a new 400,000-square-foot Irving hub last year, giving the campus a $31.4 million renovation. It's now the tech giant's second-largest office outside of its headquarters in Redmond, Washington. Irving beat out Fargo, North Dakota, and Charlotte, North Carolina, to win the expansion.
The National, a 52-story, 1.5 million-square-foot former First National Bank Tower in the core of downtown Dallas, is now a vibrant vertical mixed-use development, thanks to a $450 million revamp by Todd Interests. It houses the state's first Thompson Hotel, office space, restaurants and retail shops, and luxury apartments.
Varispace Southlake is office furniture innovator Vari's new "space as a service" concept—the company's take on the workplace of the future. The 380,000-square-foot building, which had sat vacant for a decade, was given a $20 million, Corgan-designed repositioning from single-tenant to multitenant space.
The six finalists in this category are improving their neighborhoods—and the entire North Texas region.
Sitting on more than 21 acres in Arlington's entertainment district, the new Arlington ISD Arts & Athletics Complex serves all students in the district. It features a world-class performance venue with a 1,250-seat concert hall, 425-seat theater, art and dance studios, and more. The athletics center is home to the district's first natatorium, which is also available for use by city residents.
The $14.4 million renovation of the Hall of State at Fair Park brings a landmark of Texas history back to its full glory. Built in 1936 to mark the centennial anniversary of the Republic of Texas, it's one of the best examples of art deco architecture in the state. Sadly, the building was damaged in the recent winter storm; Phoenix 1, which handled the restoration, will get back to work.
The former home of Calvary Baptist Church of Oak Cliff was acquired in late 2020 to become a new campus for The Kessler School, a private school that serves pre-K through 8th grade. Work is underway to restore the original neoclassical architecture, transform the sanctuary into a gym and performance space, and add sports fields and playgrounds, with an opening slated for the fall of 2021.
Parkland's new Moody Center for Breast Health aims to improve health outcomes for the system's diverse patient population and help create equity for breast health in Dallas County. The pedestrian-centric tower is built in two wings, connecting to DART on one side and parking on the other. The new center expands operations from 7,500 square feet to 40,000 square feet.
Dallas has long aimed to expand its biotech base. The new Pegasus Park is a big move forward in those efforts. The 23-acre, six-building campus along Stemmons Freeway is being redeveloped by J. Small Investments and Lyda Hill Philanthropies and has already won big leases from Massachusetts-based BioLabs, Peloton Therapeutics, and UT Southwestern Medical Center.
Texas Christian University's new state-of-the-art School of Music, Music Center, and Van Cliburn Concert Hall is one more jewel in Fort Worth's cultural crown. It's anchored by a 700-seat concert hall with acoustical features designed to mirror venues with up to triple the seating capacity. It will host the renowned Van Cliburn International Piano Competition in June 2022.
North Texas ranked No. 1 nationally for property sales in 2020.
American Airlines' Former Headquarters was sold to Capital Commercial Investments in a deal that closed in the spring of 2020. The three-building campus sits on 40 acres in Fort Worth and totals 1.4 million square feet. Brokers: Transwestern and Weston Commercial Real Estate.
Dallas Food Center is a 1.1 million-square-foot, rail-served distribution center on McCree Road in Garland. It was sold in November 2020 by Westmount Realty and a fund managed by DRA Advisors, which had converted its dry warehouse to a multitenant freezer/cooler space. Broker: CBRE.
Hilton Southlake Town Square is a 248-room, five-story hotel in the heart of Southlake Town Square. The Plasencia Group represented Hobbs & Curry Family LP in the sale of the property to affiliates of Driftwood Capital, a national lodging development and investment firm.
International on Turtle Creek was the largest property to trade in the Dallas Design District last year. The 153,277-square-foot asset was sold to Quadrant Investment Properties by Stockdale Investment Group in a deal brokered by Davidson Bogel Real Estate.
The Union became an immediate hit in Uptown after RED Development completed the striking, grocery-anchored, mixed-use complex in 2018. Its quality and strong tenant base helped it secure a record $730 per square foot from buyer KB Asset Management in early 2020. Broker: JLL.