Makerspace: A look at Vista's growing list
of 'maker' entrepreneurs and industries
City of Vista Report
As the maker movement continues to gain momentum across the U.S., many cities have begun to incorporate economic development strategies that support these makers in their own communities. The City of Vista is working to enable that ingenuity and allow it to flourish.
The city's focus on the spirit of entrepreneurship and creativity has led to a robust cadre of local makers and crafters — from craft breweries and beverages to food, manufacturers, art, biotech, software startups, and even incubators.
The Mulk Co. and Steeping Giant are two examples of "makers" in Vista's ecosystem. Check them out. 
The Mulk Co.
Driven by a growing desire for healthy living combined with a passion for sustainability, this cool company spawned from a marketing project by entrepreneur Melissa Finestone during her senior year at Cal State San Marcos. The MULK Co. specializes in making clean-label, dairy-alternative milk in a variety of flavors. 
The Steeping Giant
What began as a passion project in the back of Mama Kats restaurant in San Marcos in 2016 has turned into a popular cold brew company that is now sold throughout the region. CEO Joe Henschel first met founders Michael and Anthony Herrera in 2017 and began to grow the business.
PHOTO: Melissa Finestone, founder of The MULK Co., is part of Vista's growing "maker" movement. 
Read more…
A rendering of the future Palomar Heights. (Photo credit: Courtesy, Integral Communities)
Old Palomar Hospital coming down as
construction nears on Palomar Heights development
Times of San Diego
Construction is set to begin on Palomar Heights, a mixed-use community in downtown Escondido that will replace the old Palomar Hospital. The new development will include a mix of commercial and residential space and be anchored by a 75-foot landmark commercial building on Grand Avenue. 
That building is set to feature a restaurant and lounge with 360-degree views of the city, while the residential mix includes 258 multifamily rentals, 162 for-sale townhomes, and 90 other apartments.

Old Palomar Hospital
"Palomar Heights will deliver a variety of housing types to meet the needs of a diverse population and bring new residents and liveliness to downtown Escondido," said Lance Waite, principal of the developer and SDNEDC investor, Integral Communities. The company advocates that the project not only will provide housing in a tight regional market but also serve as an economic multiplier by increasing patronage for existing businesses, while also spurring job creation and property tax revenue.
Read more…
New partnership promotes watersmart
landscapes and healthy watersheds
Residents and businesses in unincorporated areas of San Diego County are eligible for increased water-use efficiency rebates under a new partnership between the county's Watershed Protection Program and the San Diego County Water Authority.
The county's new Waterscape Rebate Program will save money for residential, commercial, and agricultural customers who make landscape upgrades that improve the region's climate resilience and reduce the flow of pollutants into waterways. 
The newly enhanced incentives include rebates that start at $3 per square foot for turf replacement, $60 per smart controller station, $65 per rain barrel and up to $450 per cistern. The agencies are also offering technical assistance to upgrade larger landscapes on multifamily and commercial properties, and a cost-share with agricultural growers to make water-saving upgrades.
Water customers in unincorporated San Diego County can determine their eligibility at: SanDiegoCounty.gov/WatershedRebates.
Nominations sought for Excellence in North
County Economic Development Awards
San Diego North Economic Development Council will host the third annual Excellence in North County Economic Development Awards Lunch on Dec. 16 at the Seabird Resort in Downtown Oceanside and is accepting nominations.
At the event, the council will present awards that spotlight new businesses that have opened or relocated to North County, existing businesses that made significant expansions, new development and investments in our community, and policies and activities that make for a more economically competitive region. This recognition is awarded to nominees that are picked by a special committee comprised of board members of the council.
Any city's economic development manager, chamber of commerce leader, North County educational institution, or other interested partners can submit a nomination. Self-nominations will also be accepted. 
All nominations are due by Sept. 30. Click here for a nomination form.
County officials encourage businesses to require
proof of vaccination or regular testing from employees
San Diego County officials are encouraging local businesses and employers to implement stricter COVID-19 measures amid a spike in new virus cases. Officials recommended businesses implement a requirement for employees to either show proof of vaccination, or subject themselves to regular testing.
The recommendations come in response to a sharp increase in COVID-19 cases and hospitalizations in the region. In the past 30 days, 92 percent of new COVID-19 cases were confirmed in San Diegans who are not fully vaccinated. In addition, 98 percent of new COVID-19 hospitalizations in the county are in unvaccinated patients.
Personal training company expands to
eight new areas in San Diego County
 BodyBuzz, one of the first companies to bring Whole-Body Electromyostimulation (EMS) technology to California, recently expanded its services to La Jolla, UTC, Carmel Valley, 4S Ranch, Rancho Bernardo, Fairbanks Ranch, La Costa and Olivenhain.
 Based in Carlsbad and founded by three San Diegans, BodyBuzz is a mobile personal training company that utilizes innovative EMS technology to provide clients with more effective workout results in less time; one 20-minute BodyBuzz personal training session delivers the same results as three hours of conventional training, say the founders.
EMS was originally developed in Germany and has been used by countless athletes since the 1970s. There are currently over 5,000 fitness studios in Europe utilizing this technology, and after recently being FDA-cleared, it is now available in the U.S.
Attorney Sofia Rezvani joins Higgs Fletcher & Mack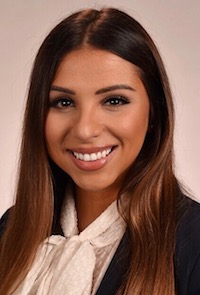 Sofia Rezvani
Attorney Sofia Rezvani has joined Higgs Fletcher & Mack and will join the firm's Healthcare Law, Business Litigation and Professional Liability Practice Groups.
Rezvani previously worked at a New York-based litigation boutique, where her practice focused on defending physicians, hospitals, long-term care facilities, and other medical professionals in malpractice litigation and various licensing and disciplinary proceedings. She has also represented companies and individuals in  a variety of general business litigation matters.
Rezvani earned her Juris Doctor degree from Syracuse University College of Law and previously earned a Bachelor of Arts degree from the University of California at Davis. While in law school, Rezvani served as a student law clerk to the Honorable James P. Murphy in the 5th Judicial District of the New York State Supreme Court. She  was inducted into Syracuse's Justinian Honor Society, a distinction reserved for just the top 20 percent of the law school's graduating class, and she has been featured as an 'Emerging Attorney' by Buffalo Business First and the Buffalo Law Journal for her work in medical malpractice defense.
Veteran hospitality industry leader joins
Sheraton San Diego Hotel & Marina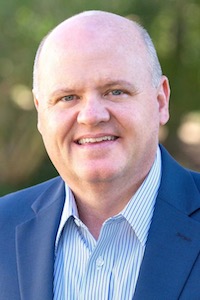 John Rovie
Veteran hospitality industry leader John Rovie, most recently director of sales and marketing at Waldorf Astoria Monarch Beach Resort in Dana Point, Calif., has been named the new director of sales and marketing at Sheraton San Diego Hotel & Marina, a waterfront resort in the heart of the harbor district. 
Rovie will supervise all sales and marketing activities for the harbor front property, developing and overseeing all sales and marketing initiatives including group and leisure sales, digital marketing, advertising, collateral and public relations.
With an extensive background in sales and marketing for the hospitality industry, Rovie has worked for some of the country's most iconic properties, and spent almost five years at Monarch Beach Resort, a luxury retreat on the Orange County coast. He was also the director of sales and marketing for Idaho's Coeur d'Alene Golf and Spa Resort, the vice president of sales and marketing for Colorado's historic luxury resort The Broadmoor, the director of sales at the famed Arizona Biltmore and the director of group sales at the Fairmont Scottsdale Princess. 
He holds a Bachelor of Arts degree from Arizona State University.
NBC 7 awarded National Murrow Award
San Diego's NBC 7/KNSD station is a winner of a 2021 Edward R. Murrow Award for Excellence in Innovation from the Radio Television Digital News Association for its production of "STOLEN: A Year-Long Investigation into Child Sex Trafficking & Exploitation."
"This award highlights our newsroom's dedication to delivering the stories that impact our viewers, on the platforms and in the way they consume news," said Greg Dawson, vice president of news at  NBC 7. "This series is a digital first investigation, helping our consumers understand a difficult but important topic for our community." 
Visit nbc7.com/stolento watch the STOLEN series.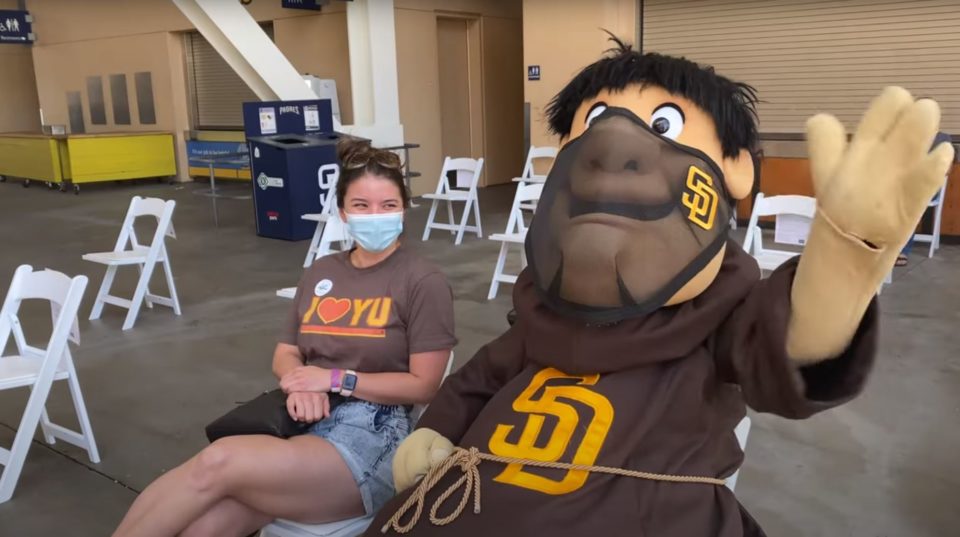 Photo courtesy of San Diego County
Score Padre tickets, T-shirts for getting COVID-19 vaccine
Want to get a free pair of Padres tickets and a Padres Hero T-shirt? For the third time, the Padres and county are teaming up for a vaccination event at Petco Park, this one set for Tuesday, Aug. 24.
The first 150 people who get vaccinated at Gallagher Square in Petco Park will receive a free pair of tickets to the Sept. 8 game against the Los Angeles Angels along with a commemorative T-shirt.
The vaccination clinic will take place as the Padres host a game against the Los Angeles Dodgers. The clinic runs from 1 to 5 p.m. for everyone, and from 5:30 to 7:30 p.m. for those with tickets to that evening's game. The entrance is at the 10th & K gate with no-cost parking available between 1-3 p.m. at the Padres Parkade, 440 11th Avenue (vouchers are provided after the vaccination).
First and second shots will be administered, and an unlimited supply of all three vaccines will be available. The tickets and T-shirts are available to everyone vaccinated, regardless of whether it is a first or second shot.
CALI marks 13th straight year on
Inc. 5000 Fastest Growing Companies List
CALI has been included on the prestigious Inc. 5000 Fastest Growing Private Companies list for the 13th consecutive year. The omni-channel flooring and decking company saw 2020 sales revenue grow to over $167.5 million, up from $133.6 million in 2019. The year-over-year growth reflects the manufacturer's success in overcoming shipping and supply challenges and other repercussions of the pandemic felt by the entire industry. 2020 saw CALI rank at 4,463.   
Each year Inc. recognizes the fastest growing private companies in America based on revenue over a three-year time frame. Inclusion on the list more than once, let alone 13 times in a row, is a rare feat. Of the tens of thousands of companies that apply, only a fraction have made the list more than once, and less than half a percent have remained 10 times or more. 
 CUSO Financial and First Service Credit 
Union announce new partnership
San Diego-based CUSO Financial Services LP (CFS), a subsidiary of Atria Wealth Solutions, Inc., announced a multi-year agreement with First Service Credit Union to support and grow its investment services program. Established in 1977, First Service provides financial services to 68,000 members with nearly $900 million in assets throughout Houston, Texas, and surrounding areas.
"There were a number of factors that led to our decision to choose CFS," said Frank Halstead, chief risk officer of First Service Credit Union. "First and foremost is their proven track record of supporting and growing credit union investment programs. They are the only third-party broker-dealer solely dedicated to credit unions, with the clear focus on helping us deliver the top-notch, personalized services that our members deserve. The unique combination of CFS' scale, service culture and award-winning technology made this a clear choice for us."
Arthrosi Therapeutics establishes joint venture in
China to speed development of innovative drug portfolio
San Diego-based Arthrosi Therapeutics Inc. announced a joint venture in Guangzhou China with Ruiao Biopharmaceutical Technology Co. Ltd. to form Gangzhou Ruianbo Pharmaceutical Technology Co. Ltd., responsible for development of a drug (AR882) for the treatment of gout.
The joint venture will be responsible for the development of AR882 in the greater China area (Mainland China, Hong Kong, Macao, and Taiwan) while Arthrosi Therapeutics Inc. continues to lead the global development of AR882 in the gout and tophaceous gout population.
In addition, the joint venture will allow Arthrosi to enter the precision medicine oncology therapeutic area by moving AR035, a potent EGFR exon 20 inhibitor targeting non-small cell lung cancer, into IND-enabling stage.
"We are enthusiastic about this opportunity to bring two drug development programs to the China market while collaborating with a leading Chinese pharmaceutical company with strong research, marketing, and sales capabilities," said Litain Yeh, CEO of Arthrosi.
The registered joint venture is anticipated to result in a $34.3 million investment for development in the greater China area, and another $25 million to participate in Arthrosi Therapeutics Series-C equity financing.